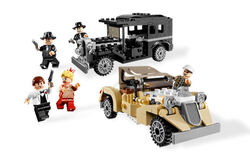 7682 Shanghai Chase is a 2009 LEGO Indiana Jones set. It is the first Temple of Doom set, and takes place during the opening chase scene of the second Indiana Jones movie, Indiana Jones and the Temple of Doom. The set consists of 244 pieces and was originally retailing for US $29.99. Included are minifigures of Indy in Dinner suit, Willie, Short Round, Kao Kan and Lao Che.
Ad blocker interference detected!
Wikia is a free-to-use site that makes money from advertising. We have a modified experience for viewers using ad blockers

Wikia is not accessible if you've made further modifications. Remove the custom ad blocker rule(s) and the page will load as expected.