The skeleton comes with a sword and helmet.
It is a skull of Francisco de Orellana, the conqueror.
Francisco came from Spain to South America searching a city made of solid gold called ''El Dorado'' or how Indians called it, ''Paititi.
In the movie, Orellana was found by Indy and Mutt Williams, in Nazca, Peru.
Orellana was carrying a golden mask when he died, and was buried.
Here's an image: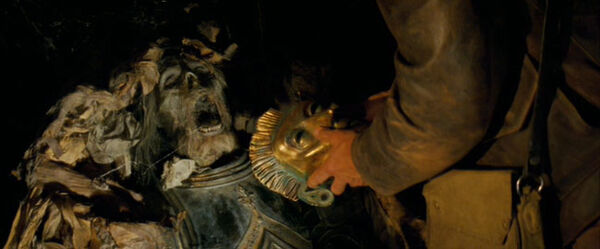 Ad blocker interference detected!
Wikia is a free-to-use site that makes money from advertising. We have a modified experience for viewers using ad blockers

Wikia is not accessible if you've made further modifications. Remove the custom ad blocker rule(s) and the page will load as expected.