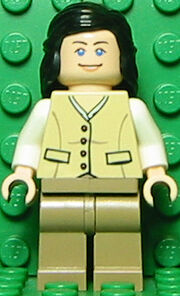 Marion (Jungle) is
Marion Ravenwood
in the jungle. LEGO has produced a
minifigure
of her which is included in the
7625 River Chase
Lego Indiana Jones set. She also appears as a playable character in the
2009
released
LEGO Indiana Jones 2: The Adventure Continues
video game. As a LEGO minifigure / game character she has the same head as in the Well of Souls set. She has a baise vest and mustard color pants.
Appearances in Lego® Edit
Ad blocker interference detected!
Wikia is a free-to-use site that makes money from advertising. We have a modified experience for viewers using ad blockers

Wikia is not accessible if you've made further modifications. Remove the custom ad blocker rule(s) and the page will load as expected.